Holiday Offer

Special holiday offer for your next Berlin trip
Stay in the centre of Berlin and discover the capital's art and culture scene
Located right in the centre of the city, our hotel represents the ideal starting point for discovering Berlin. All sights and landmarks are within walking distance. Your Berlin vacation will be effortlessy delightful with our arrangement 'Behind the scenes of Berlin'. Enjoy the pleasant heat of our Finnish sauna or unwind with creative, fresh drinks and exquisite live music at the bar 'BARt'.
With pick 'n' mix chairs, tables and couches of the last 30 years the BARt exhibits Berlin Zeitgeist. On Thursdays and Saturdays artists, musicians, DJs and Poetryslammer can give a song or share a joke. On Sundays or during the UEFA Championship you can watch cult series 'Tatort' or a football match on a big screen.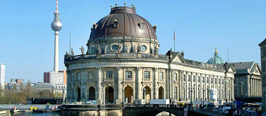 Berlin behind the Scenes
Located in the heart of Berlin's cultural quarter, Hotel Augustinenhof is offering you a very special weekend deal.

From 154,00 € p.p. in a double room

Berlin behind the Scenes
2 overnight stays, breakfast buffet included
1 guided city tour of your choice*
cheese platter served in your room
154.00 € p.p. in a double room
61.00 € in a single room
* Choose from two alternatives: 'Magie der Hinterhöfe' [Magic of the Backyards] or 'Das klassische Berlin' [Classical Berlin].
In order to book this special arrangement, you can either call +49 (0)30 308 865 20/12
or send a fax to +49 (0)30 308 865 79.
This offer cannot be booked online and is subject to availability.
Have a feast at Restaurant ALvis prior to or after your visit to a show or the theatre.
Theatre Menu at Restaurant ALvis in November
Theatre Menu in November
Main course + starter or dessert:
Starter: Turnip soup with Berlin blood sausage
Dessert: Cod fillet on crustacean ribbon noodles
Main course: Sorbet of cassis berries with apple cake
28.00 € incl. 1 glass of sparkling wine per person

Hotel Augustinenhof Berlin Mitte

You might easily leave your car at home. Thanks to the central location of Berlin's Hotel Albrechtshof, many sights and landmarks are in walking distance. However, you can also discover a lot of the city's beautiful sites using public transport such as S-Bahn, busses or tram. Take advantage of bank holidays such as Easter, Pentecost/Whitsun or Christmas and make a city trip to Berlin.
Our receptionists will gladly provide you with information and insider tips regarding the most beautiful landmarks and tourist attractions. Please feel free to contact us to let us know about your concerns or to answer any questions you might have!
You may also purchase a voucher for our special offer arrangement! We would be happy to assist you.