Sightseeing in Berlin
Sightseeing in Berlin
Discover a city in Transition!
There is hardly a city that unites as many different cultures, attractions and sights as Berlin. This city is ever-changing. There are contrasts to be found everywhere. Whether as far as Berlin's culture, architecture, arts, or its possibilities for shopping, nightlife, concerts, festivals or events are concerned, the capital has something to offer for everyone.
Theatre fans favour our Hotel Augustinenhof because of its central location at Berlin's theatre quarter called "East End". Nowhere else in Germany's capital are there as many theatres in one place: the Admiralspalast, the Chamäleon theatre, the Distel cabaret theatre, the Friedrichstadt-Palast, and the Quatsch Comedy Club are just a few minutes' walk away.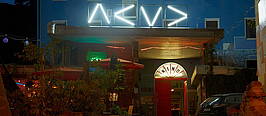 ACUD Kunsthaus
The 'ACUD- Kunsthaus' in Berlin Prenzlauer includes a theatre, a concert hall, an art gallery, two cinemas and several studeos supporting numerous interdisciplinary projects on the intersection of art, music, performance and digital media.
The ACUD-Kunsthaus is the last artistic space in Berlin that was created at the turn of 1990 and has survived to this day. His aim is to preserve Berlin's diversity and otherness in art and culture in the future.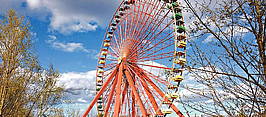 Spreepark Berlin
Spreepark was an entertainment park in the north of the Plänterwald. The abandoned and deserted amusement park with its rusting rides gives an unique ambience and setting for movies or music videos.
Although there are no more guided tours on the site itself, but only along the outside of the fence, you can still get a good impression of the enchanted place and its morbid charm.
Guided tours around the fence take about 2 hours and cost 8€ per person. Tours start on Sundays at irregular intervals of two to three weeks at 1 p.m. at the corner of Neue Krugallee and Am Plänterwald.
On the website berliner-spreepark.de you can register for the Spreepark guided tours.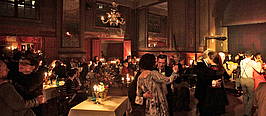 Clärchens Ballhaus
Welcome to 'Clärchens Ballhaus'. At this iconic dance club, young and elderly will find a dancing partner on their trip back in time to the 'Golden Twenties'.
Built around 1895, the Wilhelminian style building has housed a dance hall for over 100 years and still invites you to classical and modern dances several times a week.
Besides Swing, Salsa and ChaCha there are of course plenty of opportunities for the well-known waltz. Guests who want to swing their legs but have no real experience are professionally instructed by dance teachers in regular beginners' courses.

Translated with www.DeepL.com/Translator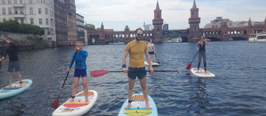 Standup Paddleboarding
Isn't it great that there are numerous ways to spend the day in Berlin?! How about a guided 1,5 hour standup paddleboarding tour along the Spree through Berlin's Osthafen (East harbour)?
Discover Berlin from the water on a standup paddleboarding tour (SUP in short). See Oberbaumbrücke (Oberbaum Bridge), the Molecule Man by American artist Jonathan Borofsky, Media Spree and Treptower Park or paddle along the Landwehr Canal and its surrounding lakes.
You can rent paddles and boards at the official 'StandUpClub Berlin' which is offering courses, tours and organizes events supporting the SUP movement. Passing the 'Badeschiff' (bathing ship), you will get to the StandUpClub. Prices can be found here.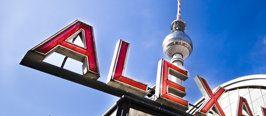 The Berlin TV Tower
Discover a 360° view of Berlin! The tower's observation deck at a height of 203,78 m or the restaurant at a height of 207,53 m offer a unique panorama view and unforgettable impressions of the city with all its sights and landmarks - subject to the condition that the sky is clear.
Purchase your tickets for the so-called "Telespargel" (TV asparagus) with us without waiting in line. Please contact us.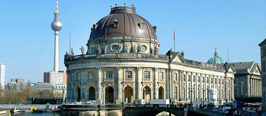 Museum Island
Museum Island is one of the world's most important museum complexes. Being both a cultural and architectural ensemble that stands out worldwide, Museum Island has been part of the UNESCO World Heritage since 1999.
We gladly arrange for you tickets for your visit to one of the museums that are part of Museum Island. Please contact us!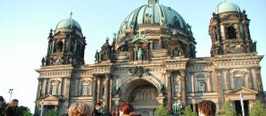 Berlin Cathedral
The Berlin Cathedral is Berlin's largest church. Within the scope of church services, guided tours and over 100 concerts per year, you can experience the Christian tradition on both musical and spiritual paths.
Being a Christian house, as well as an enterprise of the Berlin City Mission, we will gladly provide advice concerning guided tours and concerts. Please contact us.
Our recommendation: Go treasure hunting in the Berlin Cathedral with the Global Treasure App
Engage in a playful and interactive discovery of the Berlin Cathedral with your own smartphone. German and English tours for adults and children each guide you on a round tour of the whole building.
Download for free at Play Store or App Store: globaltreasureapps.com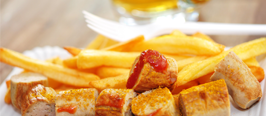 Where to find the best Currywurst…
For every visitor to Berlin trying it at least once is a must: Currywurst - whether with skin or skinless, accompanied by chips, ketchup and mayonnaise... And, who wants to know it all, can just visit the Currywurst museum.
Deutsches Currywurst Museum Berlin
We could not really make up our mind, so we would like to recommend to you the two Currywurst stands we like best in Berlin:
Konnopke's Imbiß (German Website)
Konnopke's Imbiß, also called "Konnopke", is a snack stand located on Schönhauser Allee near Eberswalder Straße in Berlin's Prenzlauer Berg district. It is said to have been East Berlin's first snack stand to introduce the Currywurst.
Trivia: In a new edition of "Monopoly", the classic parlor game ("Monopoly Today" from 2006), Konnopke's Imbiß is rated one million Euros.
Curry 36 (German Website)
Located in Berlin's Kreuzberg district, Curry 36 is a snack bar chain that is renowned beyond Berlin's city limits. Just like Konnopke's Imbiß, Curry 36 is one of Berlin's most popular Currywurst stands.
Enjoy your meal!